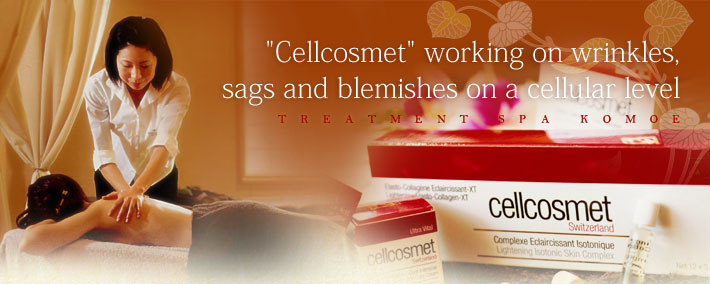 "Cellcosmet" is a high quality anti-aging cosmetic developed in Switzerland. It is featured at our treatment spa "Komoe." Other treatments include a flower bath menu using exotic orchids, a weight loss oxygen capsule menu and a germanium spa, all of which are designed to offer full relaxation. We respond to all your needs and problems.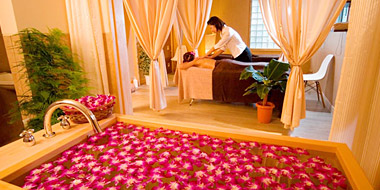 【Cellcosmet Treatment】
The Swiss-developed Cellcosmet works on your skin cells, preventing your skin from aging and keeping it young looking. It works on a cellular level, affecting wrinkles, sags and blemishes while also improving your energy level. Feel young again with our facial and body treatments using Cellcosmet at "Komoe," a deeply relaxing experience.

You can experience ASHIYA Bankunmei, an ancient Thai massage, at "Tenkyu-no-Shizuku" hot spring guest house in Yuhinkaku of Awaji Yumesenkei (adjoining to our hotel). With 2500 years of history and tradition, this unique, ancient Thai massage is a therapy combining shiatsu (manual pressure) to relieve stiffness with yoga stretching.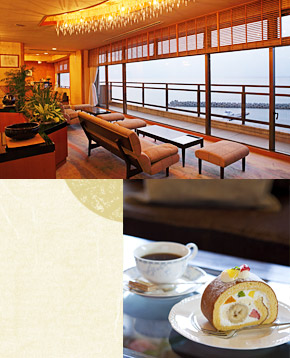 Enjoy our special siphoned coffee and tea as well as other drinks and the pasteries made by our house patissier.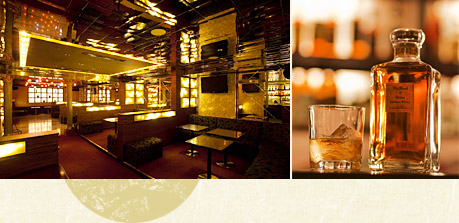 Slow the night down… Enjoy your night in Awaji with our select liquor collection and laser-karaoke.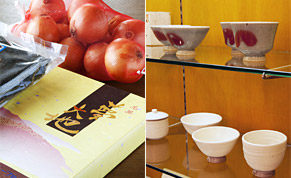 This shop has various souvenir items from Awaji Island, such as onions and Japanese medlar, marine products, locally brewed beer and a lot more that will help you remember your trip and share it with others.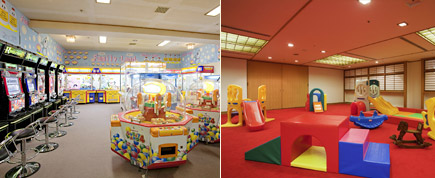 There is a Game's Corner and a Kids' Corner for visitors with children.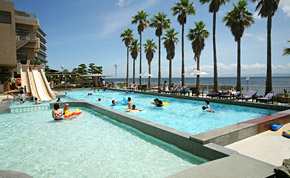 Enjoy a summer day at our seaside swimming pool with slides where you can see the brilliant sun and vast ocean directly in front of you.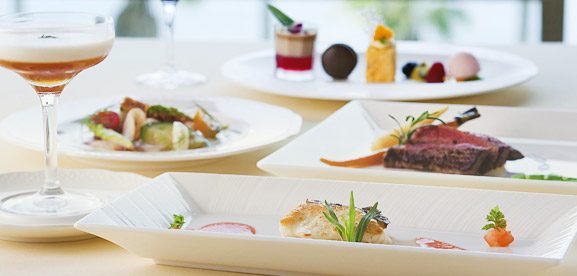 The Seaside Restaurant gives you a sweeping view of the ocean. Colorful dishes containing Awaji beef and fresh seafood from nearby Yura Fishing Port. Enjoy a variety of meals from full-course French Cuisine to casual lunches. Occasionally, the entire restaurant is reserved so please ask for a reservation.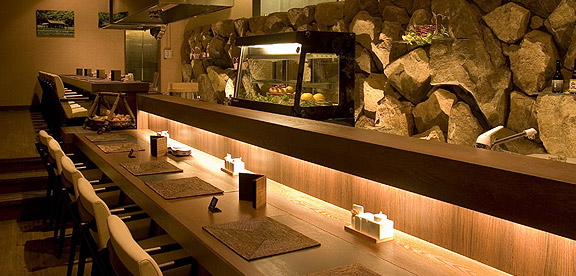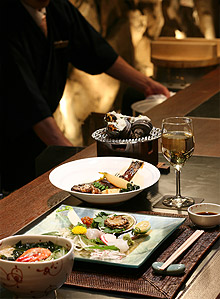 Bar Awaji is an open kitchen dining restaurant where you can enjoy Awaji's seasonal foods and drinks. In Japanese, the name is read as "baru" and it comes from the Spanish word for bar, cafe and drinking spot. It is open until 12:30 a.m., so guests can enjoy late night meals and drinks between bathing and going to bed. Enjoy the finest ingredients of Awaji Island with Kamado Dining style meals.